Robot Tsunami - iOS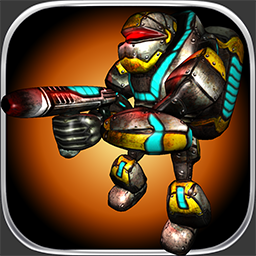 Robot Tsunami DOES NOT offer ANY FORM of in-app purchase or advertising!
Robot Tsunami is an insane, fast paced and unique arcade style twin stick shooter,  tower defence & shoot 'em up game all in one.
Fight through multiple campaigns & special challenges, with different characters, weapons, turrets, environments & of course, don't forget...robots.
It's highly recommended that you watch the gameplay video - you'll quickly get the gist of what the game is all about....and don't worry, it doesn't start off that intense! :-)
FEATURES:
+ Compete in 6 arena based campaigns each with 80 customised waves of battle
+ Take-on 30 special events in challenge mode
+ Campaigns & challenges get progressively faster and more insane as the battles get larger and more intense
+ Face-off against hordes of 12 different classes of rampaging robots; each with their own intelligence, fighting style, behaviours and weapons
+ Deploy 7 types of weapon turret, plus decoys, laser fences, laser walls & teleporters to wage war on a vast army of manic robots
+ Leverage the awesome power of your 6 dual firing mode weapons to lay waste to the enemy
+ 17 blistering music tracks
+ Fantastic value for money with over  40 hours of game-play
| | |
| --- | --- |
| In-game languages: | English, French, Italian, German, Spanish |
| Recommended hardware: | iPhone 4S, iPhone 5, iPhone 5S&C,  iPad2, iPad3, iPad 4, iPad Air, iPad Mini & iPad Mini Retina |
| Unsuitable hardware: | iPod Touch,  iPhone 3GS, iPhone 4 & iPad |
Robot Tsunami - Coming Soon for PC & Mac
Vote for Robot Tsunami on Steam
Please vote for Robot Tsubami and help get it on Steam. Click on the box above and vote 'YES'.